Middlebridge 5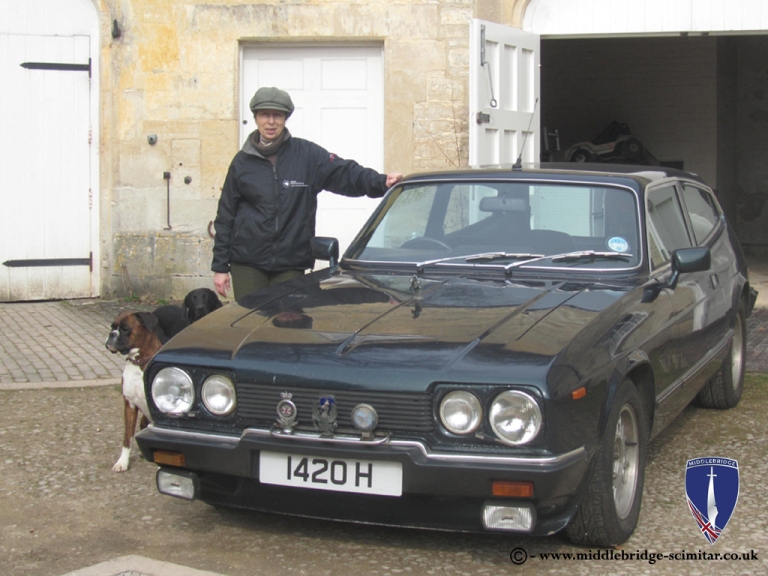 We are delighted to be able to announce that HRH The Princess Royal posed for these pictures at her home, Gatcombe Park, Gloucestershire specifically for the MESS. Having owned and run her Middlebridge from new She is undeniably a true marque enthusiast. We are also delighted to see her car is sporting the Middlebridge Grille Badge purchased from the MESS . (03/12]

One picture shows HRH The Princess Royal's Middlebridge back at Lilacs Grove for one of it's routine services, It was very rare for Middlebridge themselves to maintain or repair cars after purchase apart from of course HRH Princess Anne's car which always had a thorough service and everything inspected and replaced as required during it's brief visits back to Lilac Grove. HRH Princess Anne's interest in Scimitar's stemmed from her Father's time driving the Ogle GTS and she has owned them since 1971. During 1971 The Royal Family bought HRH Princess Anne her first Scimitar (SE5) as a combined Christmas and 20th Birthday gift it was painted aircraft blue in colour and was trimmed out in light grey leather, This was her joint Birthday and Xmas present.

HRH Princess Anne's Scimitars have shared the same cherished number plate which has been worn by her Middlebridge since 1989. The reg; 1420 H refers to her position as Colonel-in-Chief of the Royal 14/20th Hussars. [03/09]

HRH The Princess Royal was appointed the Colonel in Chief of the 14th/20th King's Hussars in 1969. The number plate 1420H was sourced by the regiment, from a milk float in Bermondsey, London and presented to her as a 20th birthday present in August/November 1970.

The front emblem is a representation of the cap badge of the 14th/20th; a Prussian Eagle awarded to The 14th Light Dragoons by Crown Princess Frederica of Prussia in 1798. The cap badge is still worn by members of the King's Royal Hussars.

HRH Princess Anne's car is featured in Phil Wormald's Middlebridge Factory Video 1989 nearing build completion

This is the only Middlebridge that was serviced at Lilac Grove followed later by Scimitar International in Havant who during May / June 2000 gave her a full service, Polybushes and AVO Adjustable Shockers, At this time she had a recorded mileage of 98,000. [11/07] If you look very closely you will see that this MB has been fitted with headlamp wipers, I would love to know when?? [03/09].

On several occasions in recent years the Princess Royal's Middlebridge has been seen at a Reliant Dealership in the Midlands for routine servicing & MOT work. [10/10]

[16.09.14] George Sampford, Matt Gaughran & myself once again headed down to Gatcombe to prepare HRH's Middlebridge for the following weekends 25th Anniversary event and what a day ( see events section for more detail).

[20/21.09.14] HRH The Princess Royal was kind enough to let us stage the MB 25th Anniversary/ re-union at her home, Gatcombe Park and also form part of the official Gatcombe International Horse Trials Event. We loaned her Middlebridge and she joined us on both days. (For more information please navigate to the events area of this website.)

Extras: Headlamp Wipe Wash, Private Plate. MESS: MB Grille Badge, MESS tread-plates fully signed by all the owners & enthusiasts that attended the Gatcombe 25th Anniversary Event.