Middlebridge Scimitar Ltd acquired the manufacturing rights and all tooling for the GTE and the convertible GTC version in 1987. Hand built at the Middlebridge Scimitar plant in Beeston, Nottingham at a rate of 300 cars per year (never attained), the new GTE retained the classic Ogle sports estate design penned by Tom Karen. It is powered by a Ford 2.9 Litre fuel injected Scorpio engine that produces 150BHP. It has either a five speed manual gearbox or a four speed automatic unit available as an optional extra and a top speed of 140 + mph. The road holding and stability of the car has been improved with modified front and rear shock absorbers, springs and an anti-roll bar is now fitted at the rear. (The handling modifications were the work of suspension Guru's Harvey Bailey) A stainless steel exhaust is included as standard and there is improved galvanising to the chassis together with anti corrosion treatment on all the steelwork in the body. (Up to 100 hours were spent on each car preparing the bodywork.)

Whilst the classic lines of the GTE were retained, Middlebridge added new alloy wheels, redesigned rear light clusters and halogen headlamps. Paint finishes were offered which included pearlescence and dual tone colour schemes. The interior of the car was improved with higher quality trim, Four head restraints and a quad speaker Alpine radio/cassette. The fascia's were also upgraded with glare free instruments, electric windows and heated door mirrors were also added. The car is fitted with a twenty gallon fuel tank which can give a range of up to 600 miles and the average touring consumption rate for the manual version is 35 mpg and 30 + mpg for the auto. The sale price for a new Middlebridge was £24,000.00 + extras and a total of 77 were built.

Many Thanks to Steve Lowe (ex Middlebridge Engineer) for the pictures above, There will be more of Steve's rare material on the site soon. Once again many thanks Steve. Click each iomage for large view and description
Can anyone identify the car under the blue cover??? (The car hiding under the cover is one of HRH Princess Anne's other cars in for repair, Many thanks to Paul Kalwa Middlebridge Group Marketing Director for the info;)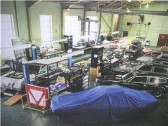 (Snippet of info) Many people have asked me about the Middlebridge front and rear bumper upgrades and whether they were to improve the cars appearence , airflow or for any other reasons, ?? I have recently been informed that the new colour coded bumpers were fitted because the rubbers for the old bumpers were no longer available!! ;o)

A short time after the Middlebridge Auction Pickfords moved into Lilacs Grove and stayed there until 1995 and in approx 1996 J.Tomlinson (Building and Mechanical Service Engineers) occupied the factory and are still operating from the site today. Once again, many thanks to Mark Wooller for the site history.